Our site has technical problems and is in the process of being updated and re-vamped. If you have trouble posting a comment, send it, please to our webmistress Tiffany This email address is being protected from spambots. You need JavaScript enabled to view it. . Thank you for your patience!

---
Details

Category: Gloria's blog
Published on Tuesday, 23 October 2012 16:07
Written by Gloria Origgi
When my mother was warning me against talking to strangers in the street, she might have had not only security concerns, but also epistemological ones. Misinformation, whichis so widespread in contemporary societies, is sticky! According to
Stephan Lewandowsky
, Ullrich K. H. Ecker, Colleen Seifert, Norbert Schwarz and John Cook, the authors of an excellent survey
article
on the topic, "Misinformation and its Correction: Continued Influence and Successful Debiasing", just published in
Psychological Science in the Public Interest
, once you start believing bogus information it becomes very difficult to correct, even when you are told that it was bogus.
The article discusses the main sources of misinformation in our societies and the cognitive mechanisms that may be responsible for its resilience in our minds, even when we are exposed to retractions. The authors also offer solutions to the problem that may help researchers, journalists and practitioners of various kinds to find the right packaging of counter-messages that challenge previously acquired beliefs.
Details

Category: Gloria's blog
Published on Thursday, 01 October 2009 16:32
Written by Gloria Origgi
(Jon Elster has just published (in French) the first volume of a trilogy: Le désintéressement : Traité critique de l'homme économique Tome 1 (Paris, Le Seuil, 2009). We have asked Gloria Origgi to review it for us.)
In one of his perfect narratives, Heinrich Von Kleist tells the sad story of two secret lovers separated and condemned to death just before the earthquake that was to destroy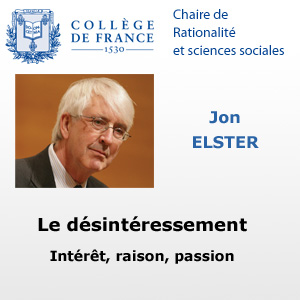 Santiago de Chile in 1647. Having miraculously survived, they enjoy for a few days the mercy of an enchanted social atmosphere. Their judges and executioners, transformed by the tragedy and the ensuing chaos, multiply gestures of altruism and generosity. The blissful mood persists for a short while, but soon the rules and norms of civil life are being reinstated and a Mass is celebrated during which the crime of the two poor lovers is denounced as the cause of all the evil. The lovers, unable to escape the fury of collective condemnation, are clubbed to death. The reciprocal altruism and the disinterested society that the cataclysm had spawned turns out to be ephemeral, unnatural, as if the ferocious end were a way to compensate for the uncanny sense of self that the people had experienced when acting in such a disinterested manner.
Jon Elster's latest book (Le désintéressement, Paris, Seuil, 2009, 377 pp.), based on his Collège de France lectures in 2006-2007, discusses the very possibility of disinterested action. Is it possible for a human being to act in a truly disinterested manner? Do disinterested actions have a psychological unity or are they the mere product of circumstances? Is disinterestedness an individual or a collective phenomenon?
Read more: Gloria Origgi reviews Jon Elster's "Le désintéressement"