Details

Category: Nicola's blog
Published on Monday, 17 November 2008 21:00
Written by Nicola Knight
I've been thinking for a while about the relevance of cognition and culture to the wider world. This problem is of course not restricted to our field , but we may have to overcome some special obstacles. During the US campaign, Palin and McCain raised (what they perceived to be) objections to the government spending money on, respectively, research in the genetics of fruit flies and education about the cosmos. If these are presented (and, one imagines, perceived by at least some) as clear cases of unreasonable or frivolous spending, how do we go about making cognition and culture -- if not relevant -- at least acceptable as a way of using funds in the public eye?
I feel part of the issue is that we have a branding problem...
Details

Category: Nicolas' Blog
Published on Sunday, 16 November 2008 21:00
Written by Nicolas Baumard
In Cognition and Culture, we often emphasize the value of experimental methods combined with fieldwork when studying culture. In contrast, using the tools of anthropology in psychology is rarely advocated but is also worth pursuing.
Mindhacks
reports an interesting
interview
where
neuroanthropologist
Daniel Lende
discusses why we need an understanding of both culture and neuroscience to get a fully integrated account of human thought and behaviour (it is in Scientific American Mind's
Mind Matters
blog).
Read more: Neuroanthropology or ethnographical neurosciences?
Details

Category: Nicolas' Blog
Published on Thursday, 13 November 2008 22:00
Written by Nicolas Baumard
Most of us do not believe in supernatural causes. However, we may feel that celebrating an exam before having received the official result can influence our chances of success. Some of us might also have the intuition that it's more likely to rain if we do not take our umbrella.
On Tuesday, President Bush declared that he regretted speaking in front of a "mission accomplished" banner  shortly after the invasion of Irak. Is a certain aversion to hybris wired in our minds? (editor's note and choice of photograph).

In a recent paper published in Journal of Personality and Social Psychology, Jane Risen and Thomas Gilovich highlight this intuition in a series of experiments...
Details

Category: Olivier's blog
Published on Tuesday, 11 November 2008 21:35
Written by Olivier Morin

Let me begin with this video - it was shot last Sunday in Jerusalem, in the Basilic where the Holy Sepulchre, the tomb of Jesus Christ, is vigilated by two opposing platoons of Armenian priests and Orthodox popes, under the surveillance of two Muslim families, helped by the occasional police patrol.



(Hat Tip: Le Monde via Yasmine Bouagga)

I know, I know, this is an unfair, demagogic, uselessly provocative way to introduce the topic of today. The reason I couldn't help but show it is because it reminds me of endless "Street Fighter" afternoons. I would love to play the man in the red satin robes.

But to my point: many recent posts, papers and articles are discussing whether strong community ties and religious beliefs reliably contribute to happiness. That they do is widely believed, on the basis of previous studies of self-reported happiness in the USA. Several theorists, for example Jonathan Haidt, in his paper 'Planet of the Durkheimians', made the very Durkheimian point that a strong, holistic, cohesive social system (in Durkheim's example, a catholic, collectivist, family-bound social life, compared to a protestant, "anomic", individualistic one), with a coherent and authoritative belief-system, is the kind of social system we evolved to be in. It ought, therefore, to make us happy. And indeed, inside the USA, religious people give more and they report being more happy with their lives...

Read more: Community and Religion: poor predictors of the bliss of nations
Details

Category: Olivier's blog
Published on Sunday, 09 November 2008 23:00
Written by Olivier Morin

This five-meters long triple tablet was hung in 1797 in the Onnma shrine in the Aichi prefecture (Japan) and contains 30 problems. It is called a Sangaku, a mathematical ex-voto representing solved geometrical problems. A book about Sangakus is forthcoming,
Sacred Mathematics: Japanese Temple Geometry
.

What do our friends interested in the anthropology of maths (Christophe, Helen, Hugo...) think of this interplay of religion and geometry? As for me, growing up in catholic Brittany, I have seen my share of weird ex-votos (the last one on my list was this
toy boat
, last June), but this tops everything else...

(found on
Science News
).
Details

Category: Hugo's blog
Published on Thursday, 06 November 2008 17:00
Written by Hugo Mercier
Two papers have recently come out on the relationship between physical and interpersonal warmth.

Pedersen's illustration of Andersen's tale "The Little Match Girl"

The
first
, by Zhong and Leonardelly, shows that feelings of social exclusion can literally make you feel cold, while the
second
, by Williams and Bargh, shows that feelings of warmth make you like people and be nice to them (well, slightly more so). Below are the abstracts and some questions to our fellow anthropologists. (You can find an ungated version of the first paper
here
).
Read more: Cold and warm relationships: A universal metaphor?
Details

Category: Charles' blog
Published on Wednesday, 05 November 2008 21:00
Written by Charles Stafford

Many anthropologists are uncomfortable with the idea of performing experiments on the people - friends - they meet during fieldwork. This is partly for ethical reasons (which, one might add, are rarely seriously reflected on). But it is also because they doubt the ecologically validity of tasks which artificially disrupt the flow of ordinary life. This is a serious concern; but of course the same concern can be raised about anthropological fieldwork itself, which represents a dramatic intervention in the lives of our informants.

First picture: People in rural Southeastern Taiwan...

Second picture: ...with the anthropologist in their midst.
Details

Category: Olivier's blog
Published on Monday, 03 November 2008 23:00
Written by Olivier Morin
That claim can be found in the latest issue of the Journal of Neurosciences.

If I were a sociologist of science, I would jump on mirror neurons - they are the perfect object if you want to study a scientific controversy today.

On the one hand, Mirror Neurons, found in several regions of the macaque cortex, have been hypothesized, by mainstream cognitive scientists, to underlie language, theory of mind, culture, empathy, art, social cognition in general, the success of an advertisement campaign promoting a famous brand of underpants (as Jonah Lehrer noted: "You know that mirror neurons have jumped off the shark when they're used to explain Abercrombie and Fitch"), and many other things, that have only one thing in common: they are extremely discreet, not to say absent, in the only species we are 100% sure has mirror neurons - macaques.

On the other hand, in a piece published in Current Biology based on data published in the Journal of Neurosciences, I. Dinstein suggested that they can hardly be found in humans, and J. Neurosciences editors seem to concur. To understand how that is possible, we need to step
a decade
back in time.


Details

Category: Brian's blog
Published on Sunday, 02 November 2008 23:00
Written by Brian Malley
I must confess a predilection for the anthropological and psychological writing of the mid-twentieth century, when anthropologists were still trying to explain culture and the principles of the cognitive revolution in psychology were first being worked out.  It was in the course of my most recent historical dalliance that I came across E. E. Evans-Pritchard's 1933 article "The intellectualist (English) interpretation of magic", which occasions the present musing:

Two models of magical associations have been proposed.  Frazer proposed that magical associations are the result of the application of a cognitive rule.  Evans-Pritchard countered that magical associations are too selective to be the result of such a rule.  In computational terms, Evans-Pritchard's proposal is that magical associations are represented by a look-up table.  Yet the occasional generalization and extension of magical associations suggests that at least in some cases inheritors of such traditions are seeking to capture the look-up table with a rule.


Edward Evan Evans-Pritchard (1902–1973) was an anthropologist most famous for his ethnography, Witchcraft, Oracles, and Magic among the Azande (1937) in which he argued that primitive peoples are no less rational than anyone else, ...


Details

Category: Dan's blog
Published on Friday, 31 October 2008 14:47
Written by Dan Sperber
Some of you may not know Cosma Shalizi, one of the most interesting intellectuals and interdisciplinary scientists of our time. Well, the last post in his blog, Three-Toed Sloth asks an anthropological question about the cultural origin of the demonization in some quarters of the Democratic candidate to the American presidential election. Here is his post:

"What, you actually thought it was a coincidence that Election Day and Halloween are so close?

"On the one hand, Barack Hussein Obama: is he the candidate of a nefarious African conspiracy of cannibalistic pseudo-Christian Muslim witches, or the candidate of Lucifer himself?

"On the other hand, Cindy McCain is just like any other female human (via Pandagon).

Read more: Cosma Shalizi on Supernatural Horror in Electoral Politics
Details

Category: Paulo's blog
Published on Wednesday, 29 October 2008 23:00
Written by Paulo Sousa
Chinese afterlife (from Hodge's paper)
Mitch Hodge has just published an article questioning the hypothesis that human intuitive reasoning about other persons supposes a type of Cartesian mind (or soul)-body substance dualism (see Journal of Cognition and Culture 8, 2008), a hypothesis that has been defended by researchers such as Paul Bloom (see Descartes' Baby). Hodge draws heavily on the fact that cross-cultural representations of the afterlife invoke embodied beings. Although I'm not convinced that afterlife conceptions provide the type of strong evidence supposed by Mitch Hodge, the article raises interesting conceptual and empirical questions about the nature of our intuitive understanding of other persons. Here is the abstract:
This article presents arguments and evidence that run counter to the widespread assumption among scholars that humans are intuitive Cartesian substance dualists. With regard to afterlife beliefs, the hypothesis of Cartesian substance dualism as the intuitive folk position fails to have the explanatory power with which its proponents endow it. It is argued that the embedded corollary assumptions of the intuitive Cartesian substance dualist position (that the mind and body are different substances, that the mind and soul are intensionally identical, and that the mind is the sole source of identity) are not compatible with cultural representations such as mythologies, funerary rites, iconography and doctrine as well as empirical evidence concerning intuitive folk reasoning about the mind and body concerning the afterlife. Finally, the article suggests an alternative and more parsimonious explanation for understanding intuitive folk representations of the afterlife.
Manual Trackbacks (editor's note):

Revolución Naturalista
(the comments contain insightful views about Paulo's picture, and other interesting observations. In Spanish.)
Evolving Thoughts
Details

Category: Dan's blog
Published on Monday, 27 October 2008 18:00
Written by Dan Sperber
Picture: Taste buds from Gray's Anatomy

The alleged non-existence of universal colours categories provided a textbook illustration for cultural and linguistic relativism until Berlin and Kay's published their famous Basic color terms: Their universality and evolution (1969), which has played a major role in the development of cognitive anthropology. On the other hand, the idea of four universal basic tastes, sweet, sour, salty, and bitter, has been generally accepted, even in anthropology. In  "A study of the science of taste: On the origins and influence of the core ideas" (Behavioral and Brain Sciences (2008), 31:59-75, freely available online) Robert P. Erickson challenges this idea from a neuropsychological point of view.

Here is the abstract:
Details

Category: Olivier's blog
Published on Saturday, 25 October 2008 23:00
Written by Olivier Morin
In last February's issue of Child Development, I found
a paper
from a team that investigates the problem of childhood memories among the Maoris. It turns out that when you ask them, Maoris produce the earliest childhood memories on record: 2.5 years on average (the average American has 3.5, Asian memories being even older on average). Their Pakeha neighbours also have first memories 3.5 years old, with Maori first memories at least 10 months earlier.





Pictures:

a Maori man (right), and writer
Georges Perec
(left), whose book

W ou le souvenir d'enfance

(W : a childhood memory) is a twisted autobiography dwelling on his absolute lack of childhood autobiographical memories.
Details

Category: Dan's blog
Published on Tuesday, 21 October 2008 20:00
Written by Dan Sperber
How common in cognitive development and how widespread across cultures is the idea of immanent justice, with the good or bad fortune being seen as generally deserved and even as a sign of the moral worth of lucky or unlucky people? A new article by Kristina R. Olson, Yarrow Dunham, Carol S. Dweck, Elizabeth S. Spelke and Mahzarin R. Banaji, "Judgments of the Lucky Across Development and Culture" (Journal of Personality and Social Psychology, 2008, Vol. 94, No. 5, 757–776) provides novel and relevant experimental evidence.
The abstract:
For millennia, human beings have believed that it is morally wrong to judge others by the fortuitous or unfortunate events that befall them or by the actions of another person. Rather, an individual's own intended, deliberate actions should be the basis of his or her evaluation, reward, and punishment. In a series of studies, the authors investigated whether such rules guide the judgments of children. The first 3 studies demonstrated that children view lucky others as more likely than unlucky others to perform intentional good actions. Children similarly assess the siblings of lucky others as more likely to perform intentional good actions than the siblings of unlucky others. The next 3 studies demonstrated that children as young as 3 years believe that lucky people are nicer than unlucky people. The final 2 studies found that Japanese children also demonstrate a robust preference for the lucky and their associates. These findings are discussed in relation to M. J. Lerner's (1980) just-world theory and J. Piaget's (1932/1965) immanent-justice research and in relation to the development of intergroup attitudes.
It would be particularly relevant to have studies on the topic combining experimental and standard ethnographic method and illuminating the relationship between the culturally affirmed views and the people's (including children's) spontaneous inference in the matter.

Picture: design by Erica Michaels.
Details

Category: Dan's blog
Published on Sunday, 19 October 2008 19:00
Written by Dan Sperber
This picture, taken in 1969, shows two Dorze elders discussing how to interpret the entrails of a lamb that had just been slaughtered.


The pattern of blood vessels on the entrails represents genealogical relationships and blemishes show which of these relationships (with the living or with the dead) need mending.


Not quite your standard case of a cognitive tool or or of distributed cognition, but...

Manual Trackback: One Stop Thought

Details

Category: Christophe's blog
Published on Saturday, 04 October 2008 22:00
Written by Christophe Heintz
In my previous post (
Cases of institution that make us smart
), I have been considering a proposal about increasing taxes on junk food and decreasing taxes on fruits and greens. The proposal differed from campaigns of information (see picture as an example) because it implied direct action on the relative prices of different kinds of foods: changes would have been made on the structure of incentives rather than on people's beliefs. I was considering this proposal as an attempt to frame the environment for fostering beneficial decisions and behaviour.

In Mean Genes, Burnham and Phelan provide a list of tricks that could help people to have a healthy diet. Most of them consist in changing their environment. It is not groundbreaking science (it does not claim to be so) but it points to an important trend: the use of psychological research on behaviour departing from some rational norm for policy making and individual decision making. One important idea is that one can change the environment so that known psychological mechanisms lead to decisions that are advantageous to the individual or to the community.

Picture: "Manger Bouger": the French city of Nîme's advertisement campaign on the benefits of a healthy diet.



Read more: Politics and the psychology of irrational decisions
Details

Category: Christophe's blog
Published on Tuesday, 30 September 2008 20:35
Written by Christophe Heintz
Evolutionary psychologists assert that our genetically drive
n cognitive endowment has evolved during
the Pleistocene. As a consequence, our
innate cognitive mechanisms are adapted to the environment of that period (the EEA) but not necessarily
to our changed modern environment. One instance of mal-adaptedness is the fact that human crave for fat and sweet food. This craving was adapted to the Pleistocene environment where high energetic food was rare, but is not to the modern environment of rich societies. There is a mismatch that causes obesity to spread, thus decreasing fitness.



T
he adaptedness of cognitive processes is characterised by a fit between the process and the environment. The fit means that the processes reliably lead to positive outcomes or tend to maximise results. The processes, however, do not lead to beneficial results because they perform a comprehensive analysis of the situation and an evaluation of the each possible output. In fact, such processes work, and can be considered rational, only in a specified environment. They make the most of properties (esp. statistical properties) of specific environments. They are, as Simon and Gigerenzer put it, "ecologically rational".


There is a puzzle that comes with the above assertions: if our cognitive apparatus is best adapted to the Pleistocene environment and if our modern environment depart more and more from this original environment of evolutionary adaptedness, then we should be less and less adapted, less and less ecologically rational, ... dumber and dumber. But this does not really seem to be the case.

Details

Category: Michael Berthin's blog
Published on Thursday, 25 September 2008 10:53
Written by Michael Berthin
Further to Charles' recent a post, an interesting article,

Collective Action in Action: Prosocial Behavior in and out of the Laboratory
, by Michael Guervin and Jeffrey Winking in the recent American Anthropologist:

Experiments have become a popular method to study altruism and cooperation in laboratory and, more recently, in field settings. However, few studies have examined whether behavior in experiments tells us anything about behavior in the "real world." To investigate the external validity of several common experimental economics games, we compare game behavior with prosocial behavior among Tsimane forager-horticulturalists of lowland Bolivia. We find that food-sharing patterns, social visitation, beer production and consumption, labor participation, and contributions to a feast are not robustly correlated with levels of giving in the economics games. Payoff structure and socioecological context may be more important in predicting prosocial behavior in a wide variety of domains than stable personality traits. We argue that future experimental methods should be tailored to specific research questions, show reduced anonymity, and incorporate repeat measures under a variety of conditions to inform and redirect ethnographic study and build scientific theory.
It's nice to see these compared empirically, rather than the usual debates in anthropology about experiments vs ethnography, which are quite hypothetical.
Details

Category: Olivier's blog
Published on Tuesday, 23 September 2008 14:57
Written by Olivier Morin
Another paper, in Cognition, about the mathematical abilities of Amazonians. This time, the Gibson/Everett view scored one point. They claim that language for numbers is not what allows us to use concepts of exact quantities for big sets. It merely helps us to keep them in mind.

[from the abstract] number words do not change our underlying representations of number but instead are a cognitive technology for keeping track of the cardinality of large sets across time, space, and changes in modality.
The opposite side is nonplussed about the study. Stanislas Deahaene shared his disbelief with The Telegraph.
Elizabeth Spelke talks of possible experimental biases in New Scientist. You can read the paper here (no screen).
Details

Category: Hugo's blog
Published on Tuesday, 23 September 2008 00:00
Written by Hugo Mercier
An interesting paper in the last PNAS. Susan Goldin-Meadow and her colleagues have demonstrated that speakers from very different language groups all process the order of events in a similar way in non-linguistic tasks. A point against the Sapir-Whorf hypothesis.

The abstract says it all:
"To test whether the language we speak influences our behavior even when we are not speaking, we asked speakers of four languages differing in their predominant word orders (English, Turkish, Spanish, and Chinese) to perform two nonverbal tasks: a communicative task (describing an event by using gesture without speech) and a noncommunicative task (reconstructing an event with pictures). We found that the word orders speakers used in their everyday speech did not influence their nonverbal behavior. Surprisingly, speakers of all four languages used the same order and on both nonverbal tasks. This order, actor–patient–act, is analogous to the subject–object–verb pattern found in many languages of the world and, importantly, in newly developing
gestural languages. The findings provide evidence for a natural order that we impose on events when describing and reconstructing them nonverbally and exploit when constructing language anew."
Details

Category: Olivier's blog
Published on Saturday, 13 September 2008 19:29
Written by Olivier Morin

Last month, Nicola posted here on an
apparent paradox
in the doctrine of anti-choice activists. The paradox is the following: if embryos and foetuses are human beings in every relevant respect, so that killing them is murder, why is it that anti-choice activists typically refuse to punish aborting mothers - while of course they want infanticide to be punished? There was a
lively discussion
with Benoît Dubreuil and myself - still going on, feel free to join!

Now I found, through
Collin Farrelly
,
another puzzle that might shed light on this first puzzle of abortion...


Details

Category: Helen De Cruz's blog
Published on Wednesday, 03 September 2008 18:56
Written by Helen De Cruz
The question of how language and conceptual thought are related is unresolved in both philosophy and psychology. Many recent tests of the so-called 'Whorfian hypothesis', the idea that the structure of a particular language influences the way its speakers conceptualize the world, have focused on number. As has been noted earlier on this blog, the results of these investigations do not present a unified picture.


Read more: Philosophy and Psychology: Special issue on number and language
Details

Category: Nicola's blog
Published on Thursday, 28 August 2008 19:11
Written by Nicola Knight
I thought I'd start by posting about something that has been puzzling me of late.

One of the purposes of criminal law in many countries is to protect individuals, or society at large, from harmful individuals, by means of either punishment (which usually takes the form of jail sentences) or deterrence.

Duff, in the Stanford Encyclopedia of Philosophy, says that "Crimes are, at least, socially proscribed wrongs—kinds of conduct which are condemned as wrong by some purportedly authoritative social norm. That is to say that they are wrongs which are not merely 'private' affairs, which properly concern only those directly involved in them: the community as a whole—in this case the political community speaking through the law—claims the right to declare them to be wrongs."

In light of this, I would ask you to watch some or all of the
following video
shot at an anti-abortion demonstration that took place in Libertyville, USA.


Details

Category: Hugo's blog
Published on Wednesday, 13 August 2008 17:53
Written by Hugo Mercier
It's quite refreshing to see such a creative use of methodology to investigate cross-cultural universals:

The present research examined whether the recognizable nonverbal expressions associated with pride and shame may be biologically innate behavioral responses to success and failure. Specifically, we tested whether sighted, blind, and congenitally blind individuals across cultures spontaneously display pride and shame behaviors in response to the same success and failure situations—victory and defeat at the Olympic or Paralympic Games. Results showed that sighted, blind, and congenitally blind individuals from >30 nations displayed the behaviors associated with the prototypical pride expression in response to success. Sighted, blind, and congenitally blind individuals from most cultures also displayed behaviors associated with shame in response to failure. However, culture moderated the shame response among sighted athletes: it was less pronounced among individuals from highly individualistic, self-expression-valuing cultures, primarily in North America and West Eurasia. Given that congenitally blind individuals across cultures showed the shame response to failure, findings overall are consistent with the suggestion that the behavioral expressions associated with both shame and pride are likely to be innate, but the shame display may be intentionally inhibited by some sighted individuals in accordance with cultural norms.


From a
paper
in the early edition of the Proceedings of the National Academy of Science (
here
is an open version).

Jessica L. Tracy

and

David Matsumoto


The

spontaneous

expression

of

pride

and

shame

: Evidence for biologically innate nonverbal displays
PNAS

doi:10.1073/pnas.0802686105



(HT:
Mind Hacks
)


Details

Category: Dan's blog
Published on Tuesday, 12 August 2008 18:47
Written by Dan Sperber
Ideally, the relationship between the cognitive and the social sciences should be a reciprocal one. However, and with some notable exception (e.g. Berlin and Kay's work on colours), it has been more common to see cognitive psychology inspiring anthropological research that the other way around. Still many cultural practices reveal cognitive capacities and mechanisms that cognitive scientists would be unlikely to stumble on in the lab. One such practice, with many cultural variations, is that of conjuring or 'magic' done for entertainment. A team of practicing magicians and cognitive neuroscientists is publishing this week in Nature Reviews Neuroscience an article entitled: "Science and society: Attention and awareness in stage magic: turning tricks into research" (full text freely available
here
).
Read more: A cultural practice, conjuring, gives food for thought to cognitive neuroscientists
Details

Category: Hugo's blog
Published on Thursday, 07 August 2008 17:52
Written by Hugo Mercier
A new paper studying cultural evolution (in that case language-like evolution) experimentally by the Edinburgh crew:

Simon Kirby, Hannah Cornish, and Kenny Smith


Cumulative cultural evolution in the laboratory: An experimental approach to the origins of structure in human language

. PNAS 2008 105:10681-10686


Details

Category: Rita's blog
Published on Sunday, 03 August 2008 20:27
Written by Rita Astuti

In a letter in the July issue of
Trends in Co
gnitive Sciences
,

Paul Bloom and Susan Gelman recount the selection procedures used to identify the 14th Dalai Lama. The then 2-year old boy was presented with objects that had belonged to the 13th Dalai Lama together with inauthentic items that were either very similar or identical to the authentic ones. When the boy succesfully and with no hesitation chose the authentic ones, he was chosen to be the 14th Dalai Lama. Bloom and Gelman present this story as cross-cultural evidence of the existence of essentialist beliefs: for the Tibetan bureaucrats that devised the selection procedure, the objects that belonged to the 13th Dalai Lama had come to possess an invisible essence that could only be discerned by the special powers of the 14th Dalai Lama. I wonder, however, whether this story really illustrates the belief in the existence of invisible essences in the

objects

presented to the little boy, or whether it illustrates the belief in the essential identity of the person of the Dalai Lama in his 1st, 2nd, 3rd... 13th and 14th manifestation.


Details

Category: Dan's blog
Published on Sunday, 27 July 2008 17:13
Written by Dan Sperber
You may, like me, have seen the cover of the 14th of July New Yorker depicting a Barack Obama as a Muslim and Michelle Obama as a terrorist, with a portrait of Osama Bin Laden on the wall and an American flag burning in the fireplace, and understood that the intention was to satirize not them but the rumours against them, and nevertheless have felt this could not but backfire. In an article
published in The Chronicle of Higher Education, and subtitled "Cognition studies clash with 'New Yorker' rationale" Harvard psychologist Mahzarin Banaji explains why it is so:
I am, as are most others in my social class, an emphatic defender of the arts as a primary vehicle to irritate, aggravate, and offend. I have been trained to step back and rethink my reaction to that which jolts and nauseates me. I know that, in such moments especially, I must look within for a possible inability to transcend ingrained values. For that reason, and because we who read The Chronicle are likely to be among the staunchest supporters of the First Amendment, we must, of course, defend the right of The New Yorker to print the image it did.
What we need not defend is the absurd naïveté about the basic facts of information transmission that accompanied the reasoning behind the drawing.

Details

Category: Hugo's blog
Published on Tuesday, 22 July 2008 17:06
Written by Hugo Mercier
In the last Nature Reviews Neuroscience, a paper reviewing the work showing cultural differences in brain activation. I'm afraid there's no non-gated version, but here's the abstract:

Our brains and minds are shaped by our experiences, which mainly occur in the context of the culture in which we develop and live. Although psychologists have provided abundant evidence for diversity of human cognition and behaviour across cultures, the question of whether the neural correlates of human cognition are also culture-dependent is often not considered by neuroscientists. However, recent transcultural neuroimaging studies have demonstrated that one's cultural background can influence the neural activity that underlies both high- and low-level cognitive functions. The findings provide a novel approach by which to distinguish culture-sensitive from culture-invariant neural mechanisms of human cognition.

Details

Category: Olivier's blog
Published on Monday, 07 July 2008 23:00
Written by Olivier Morin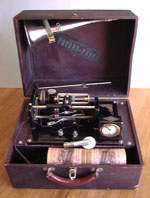 Over at
The Immanent Frame
, historian Leigh Eric Schmidt has a paper about the current fMRI craze in religious studies (actually, The Immanent Frame has
several posts about neurotheology
).

According to Schmidt, neurotheology is just one manifestation of a deep trend in American thought. American spirituality, he claims, always loved to explore the interface between technology and religion, and more broadly, emphasized the psychological aspects of religious experience, at the expense of the insitutional or ritual. This attitude may have paved the way for cognitive science and fMRI studies of religion - what some call the "Holy Mix".

But the main interest of Smith's post lies in the long and sad story of spiritual gadgets that he tells...


Additional information