Our site has technical problems and is in the process of being updated and re-vamped. If you have trouble posting a comment, send it, please to our webmistress Tiffany This email address is being protected from spambots. You need JavaScript enabled to view it. . Thank you for your patience!

---
Details

Category: Nicolas' Blog
Published on Monday, 20 June 2011 01:00
Written by Nicolas Baumard
I'm a big fan of books on the history of science. I like to find out about the whole story: how things got started in Ancient Greece with people disputing traditional views, how it continued during the Renaissance with scientists starting to test their theories experimentally, and on into the explosion of knowledge in the twentieth century. I also like the well-known characters and the charming (and often imaginary) vignettes about them: Galileo and the tower of Pisa, Newton and the apple, Mendel and the peas.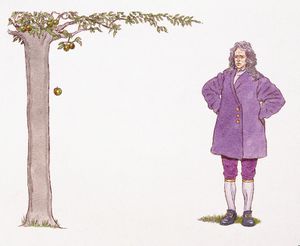 I like the settings, the Agora, the Sorbonne, the Royal Society. I like the twists and turns of the plot (Galileo forced to retract his theory or Darwin discovering that Wallace is about to publish the theory he had worked on secretly for twenty years).
Picture: The trial of Galileo by Joseph-Nicolas Robert-Fleury
I like the detours through Arabic and Chinese science (and always regret their neglected role). And of course, I like the history of science itself, how problems are discovered (why do organs seem to have a function?), hypothesis proposed along the way (the heritability of acquired characteristics for instance) and explanations found (natural selection)–what Steven Pinker calls the "blissful click, the satisfying aha!, of seeing a puzzling phenomenon explained."
I like all these things, but one thing always disappoints me. It is the absence of social sciences.
Details

Category: Ophelia's blog
Published on Monday, 06 June 2011 19:00
Written by Ophelia Deroy
Is a lemon fast or slow?
Which one is brighter: the sound of a violin or the sound of a trombone?
Got the answer?
Without any apparent reason, you believe that lemons are fast and violins sound brighter than trombones. These beliefs happen to be shared by most humans, from an early age and cross-culturally. Now, where on earth did we get them from? Most of the earlier studies conducted since Edward Sapir focused on "sound symbolism", i.e. the associations between sounds and meanings, but not directly on the associations between sensory dimensions – like brightness, pitch, size, etc. Even if you don't know anything about french names for birds, I could ask you whether you think that a pipit is a small or a big bird – and you would, without any apparent reason, judge that it must be a small one. It's certainly because, as a large majority of humans across cultures and linguistic groups, you think that the sound /i/ is smaller and brighter than the sound /a/, diminutive words, or names of small birds and fishes are much more likely to contain /i/ than /a/.
Rules have exceptions: Which is faster — a mallard or a kiwi?
Believing in things that don't really make sense and without any apparent reason seems, in that respect, not specific to the religious and spiritual domain. But are beliefs in the fastness of lemons, and in bright violins, of the same kind as beliefs in the Holy Trinity or in the spirits of the trees?
Details

Category: Decision-making for a social world
Published on Monday, 06 June 2011 11:19
Written by Hugo Mercier
Judgments and decisions based on attempts to disambiguate the given information: Effects of decision frames, non-diagnostic information, and information order (you can find the paper here)
The author presents evidence for the impact of conversational rules (Grice, 1975) on judgment and decision making. In accordance with social cognitive approaches that examine how conversational rules affect information processing (e.g., Higgins, 1981; Schwarz, 1994, 1996), it is argued that these inherently social rules guide important meta-cognitive inference on whether and how information should be used in forming judgments and making decisions. The author reviews the influence of conversational rules on framing effects, the dilution effect, and order effects in decision making and persuasion. Implications for cognitive 'biases' in and outside of the lab are discussed.
Details

Category: ICCI blog
Published on Friday, 03 June 2011 12:50
Written by ICCI Team
Satoshi Kanazawa has caused a scandal by publishing a blog post (later withdrawn) claiming, with specious evidence, that black women were less attractive than others (and black men were more attractive). His Psychology Today blog has just been closed down. Readers of the hell-raising post will realize that this does not look like the work of a scientist willing to challenge political prejudice in the name of truth. The author obviously relishes provocation, and he was willing to relax the standards of scientific proof to create a stir. Which he did.
As a result, evolutionary psychology as a whole is once more under attack in the media and at the LSE (where Kanazawa is a reader in the management department).
Read more: Offensive inanity in the name of evolutionary psychology
Details

Category: Helen De Cruz's blog
Published on Wednesday, 25 May 2011 01:00
Written by Helen De Cruz
In the next academic year, I will be a research follow at the University of Oxford on a project that examines the implications of cognitive science of religion for theology (see here for a summary of the project).
The Holy Trinity by Masaccio, 1425
Traditionally, cognitive scientists have argued for a large cognitive divide between folk religion and theology. Folk religious beliefs are considered to be cognitively natural, whereas theology is chock-full of concepts that are difficult to represent. Pascal Boyer has termed the tendency of laypeople to distort official theological doctrines to reflect more intuitive modes of reasoning ''the tragedy of the theologian''.
Details

Category: Decision-making for a social world
Published on Sunday, 22 May 2011 15:49
Written by Hugo Mercier
The cost of collaboration: Why joint decision-making exacerbates rejection of outside information (article here)

Julia Minson and Jennifer Mueller
Existing research asserts that specific group characteristics cause members to disregard outside information which leads to diminished performance. In the present study we demonstrate that the very process of making a judgment collaboratively rather than individually contributes to such myopic disregard of external viewpoints. Dyad members exposed to the numerical judgments made by another dyad gave significantly less weight to those judgments than did individuals exposed to the judgments of another individual. The difference in the willingness to use peer input shown by individuals versus dyads was fully mediated by the greater confidence that the dyad members reported in the accuracy of their estimates. Consequently, although dyad members made more accurate initial estimates than individuals, they were less able to benefit from peer input.
Details

Category: Pascal's blog
Published on Thursday, 19 May 2011 15:36
Written by Pascal Boyer
Would you enjoy your cocktail less, if it came in a glass labelled "vomit"?
One solid result of cognitive psychology, or so it would seem, is that most people, regardless of education, opinion or personality, can be induced to think in magical terms given the appropriate stimuli and conditions. People will be reluctant to don a sweater if told that it used to belong to Adolf Hitler. They resist drinking from a glass of water in which an experimenter has briefly dunked a plastic cockroach. There is a great variety of such effects, initially demonstrated by Paul Rozin and Carol Nemeroff and replicated by many others, including Paul Harris in developmental studies.
This was salutary news for cultural anthropologists, who suspected that there was something deeply wrong with the notion that magical thinking was a prerogative of the Other, either quasi-naked people with bones through their noses, or less exotic peasants and barbarians with "pre-logical" mentality. So – we now know that we all are that Other, so to speak.
But does magical thinking actually exist? Do the experiments actually show it in action?
Details

Category: Decision-making for a social world
Published on Monday, 09 May 2011 01:00
Written by Hugo Mercier
Exploiting the wisdom of others: A bumpy road to better decision making (article here).
Ilan Yaniv and Shoham Choshen-Hillel
While decision makers often consult other people's opinions to improve their decisions, they fail to do so optimally. One main obstacle to incorporating others' opinions efficiently is one's own opinion. We theorize that decision makers could improve their performance by suspending their own judgment. In one study, participants used others' opinions to estimate uncertain quantities (the caloric value of foods). In the full-view condition, participants could form independent estimates prior to receiving others' opinions, while participants in the blindfold condition could not form prior opinions. We obtained an intriguing blindfold effect such that the blindfolded participants provided more accurate estimates than did the full-view participants. Several policy-capturing measures indicated that the advantage of the blindfolded participants was due to their unbiased weighting of others' opinions. The full-view participants, in contrast, adhered to their prior opinion and thus failed to exploit the information contained in others' opinions. The results from these two conditions document different modes of processing and consequences for accuracy.
Details

Category: Dan's blog
Published on Saturday, 07 May 2011 01:00
Written by Dan Sperber
David Hume, described in the Stanford Encyclopedia of Philosophy as "the most important philosopher ever to write in English," was born 300 years ago. All anthropologists should celebrate one of the greatest Founding Fathers of the discipline (but will they?), and we at the Cognition and Culture Institute are particularly inclined to do so since Hume commonly sought to explain human ideas, practices and institutions by articulating psychological and sociological considerations. I propose to our members and readers to contribute to this commemoration by selecting quotes from Hume of particular cognition-and-culture relevance and adding them to this post as comments. I begin with a longish quote from his section "On miracles" in the Enquiry on Human Understanding, which is relevant to what is now called 'social epistemology' and in particular to the study of epistemic vigilance and of course to the study of religious beliefs. Before this, just a little anecdote that should ring a bell for many young scholars who pay a serious career price for going against orthodoxies. In 1744, Hume, who had already published his Treatise of Human Nature and a collection of moral and political essays, applied for the 'Chair of Pneumatics and Moral Philosophy' at the University of Edinburgh. However, the position was given to one William Cleghorn because of Hume's unorthodox views on religion.
Hume: 'On Miracles'
"A wise man… proportions his belief to the evidence.
Details

Category: Events
Published on Wednesday, 04 May 2011 16:19
Written by Christophe Heintz
Nancy Nersessian has been awarded the inaugural Patrick Suppes Prize for Philosophy of Science. This award to Nancy Nersessian is a nice recognition of what can be done with interdisciplinary approaches taking into account both cognition and culture. Indeed, her work consists in describing "the cognitive and cultural mechanisms that lead up to scientific innovation, both theoretical and experimental."
In her book, Creating Scientific Concepts, Nancy Nersessian provides detailed analyses of model based reasoning, which she shows to be at the heart of conceptual change. He work includes both very detailed analyses of individual scientists' cognitive processes and a specification of the role of the social, cultural and material environments. For instance, she has been illustrating with case studies the theory of distributed cognition, and enriching it with new ideas and concepts. Her methodology includes mainly cognitive history and cognitive ethnography.