Our site has technical problems and is in the process of being updated and re-vamped. If you have trouble posting a comment, send it, please to our webmistress Tiffany This email address is being protected from spambots. You need JavaScript enabled to view it. . Thank you for your patience!

---
Details

Category: Decision-making for a social world
Published on Monday, 04 July 2011 16:30
Written by Hugo Mercier
Modularity & Decision Making (paper here)
Robert Kurzban University of Pennsylvania & Chapman University
Mechanisms that are useful are often specialized because of the efficiency gains that derive from specialization. This principle is in evidence in the domain of tools, artificial computational devices, and across the natural biological world. Some have argued that human decision making is similarly the result of a substantial number of functionally specialized, or "modular" systems, brought to bear on particular decision making tasks. Which system is recruited for a given decision making task depends on the cues available to the decision maker. A number of research programs have advanced using these ideas, but the approach remains controversial.
Details

Category: Radu Umbres' blog
Published on Saturday, 02 July 2011 17:11
Written by Radu Umbres
What weapon would you use to hunt a dahu? Where would you start looking for a Volkswagen Beetle radiator hose? Does elbow grease come in cans or tubes? You shouldn't even begin thinking about these questions because they are just introductions into elaborate hoaxes. Dahus are fictional deers said to be adapted to the terrain of the Alps by having the feet on mountain side shorter than the feet on the valley side. The Beetle has an air-cooled engine and does not have a radiator. Elbow grease is a metaphor for strenuous manual labour. What makes these ficticious items successful cultural replicators? How can we explain the occurrence of "snipe hunt" in so many different social settings across the world?
During my fieldwork in a Romanian village, I spent some time as an apprentice in a construction team.When one of our workmates accidentally broke a wooden plank, he was sent by the master builder to search for an "acacia electrode" to weld it back into one piece. One evening during after-work drinks, the team managed to convince a young villager that his skills as swimmer were needed early next morning, when the team was to build a dam on one of Romania's largest rivers. These practices are part of a cross-cultural set of practical jokes called the fool's errand or the snipe hunt.
Read more: Snipe hunters of preys with low epistemic vigilance
Details

Category: Nicolas' Blog
Published on Saturday, 25 June 2011 01:00
Written by Nicolas Baumard
This post is part of a series on the 'history of social sciences'.
Monday Tuesday Wednesday Thursday Friday Saturday
So far, in this mini-series on the (possibility of a) history of social sciences, I have only discussed the work of a philosopher that is relatively close to us, in terms of space and time. However, I believe that the same story can be told for far more distant philosophers.
Consider, again, the idea of a moral module, advocated by contemporary psychologists. Elsewhere, I have argued that this idea is not totally new and that Scottish philosophers had come up with a similar idea in response to a similar problem (how to account for our innate, universal, unconscious and specific thoughts about right and wrong?) But this idea of a moral organ can be found much earlier, on another continent, Asia, during a different era, the third century before CE, in the work of Mèng Zǐ, usually known in the West as Mencius.
Details

Category: Nicolas' Blog
Published on Friday, 24 June 2011 01:00
Written by Nicolas Baumard
This post is part of a series on the 'history of human sciences'.
Monday Tuesday Wednesday Thursday Friday Saturday
OK, I admit. Adam Smith never talked about mirror neurons. So why am I bringing this topic up? Because Smith actually did, in a way, tackle the debate about mirror neurons and empathy.
What is this debate? In recent years, empathy, understood as the capacity to recognize and, to some extent, share feelings (such as sadness or happiness) that are being experienced by another sentient being, has received more and more interest. In particular, the study of the neural underpinnings of empathy has received increased interest following a Behavioral and Brain Sciences target article published by Stephanie Preston and Frans de Waal, following the discovery of mirror neurons in monkeys that fire both when the creature watches another creature perform an action as well as when they perform it themselves. In their paper, they (as well as others like Gallese) argued that perception of the object's state automatically activates neural representations, and that this activation automatically primes or generates the associated autonomic and somatic responses, unless inhibited.
But what does any of this have to do with Adam Smith? Like modern psychologists and anthropologists, Smith thought that our capacity to experience feelings about the feelings of others was the basis of social life. In fact, his Theory of Moral Sentiments starts with these words:
"How selfish soever man may be supposed, there are evidently some principles in his nature, which interest him in the fortune of others, and render their happiness necessary to him, though he derives nothing from it except the pleasure of seeing it. Of this kind is pity or compassion, the emotion which we feel for the misery of others, when we either see it, or are made to conceive it in a very lively manner. That we often derive sorrow from the sorrow of others, is a matter of fact too obvious to require any instances to prove it."
And for those who are tempted to doubt the connection between Smith's view of sympathy and its modern counterpart, he immediately adds that it is automatic:
"As we have no immediate experience of what other men feel, we can form no idea of the manner in which they are affected, but by conceiving what we ourselves should feel in the like situation. Though our brother is upon the rack, as long as we ourselves are at our ease, our senses will never inform us of what he suffers. They never did, and never can, carry us beyond our own person, and it is by the imagination only that we can form any conception of what are his sensations."
So does this mean that we should see Smith as the 'big ancestor' of the modern mirror neuron theory? Not so fast. Actually, my point is that Adam Smith had anticipated some of the weaknesses of the mirror neuron theory.
Read more: Adam Smith (1723-1790) on mirror neurons and empathy
Details

Category: Nicolas' Blog
Published on Thursday, 23 June 2011 01:00
Written by Nicolas Baumard
This post is part of a series on the 'history of social sciences'.
Monday Tuesday Wednesday Thursday Friday Saturday
One of the debates that haunts the social sciences is the debate about what is innate and what is acquired, what is universal and what is variable, or what belongs to nature and what belongs to culture. This debate has become central in the last decades thanks to the advances of the cognitive sciences and of evolutionary theories. By providing a new way to describe the unconscious and deep structure of the mind and their emergence during human history, these disciplines have made the debate over nature and nurture inevitable.
For this reason, you might think that the current debate is brand new and that it represents a new page in the history of social sciences. Certainly it is new, but maybe not so new.
Read more: Smith (1723-1790) on innateness and cultural variability
Details

Category: Nicolas' Blog
Published on Wednesday, 22 June 2011 01:00
Written by Nicolas Baumard
This post is part of a series on the 'history of social sciences'.
Monday Tuesday Wednesday Thursday Friday Saturday
Darwin's theory of evolution allows us to draw a distinction between ultimate causes—the evolutionary pressures that led to the selection of a particular psychological disposition—and the proximate causes—the psychological mechanisms that cause individuals to behave in a certain way. As the authors of a recent article put it "ultimate explanations are concerned with why a behavior exists, and proximate explanations are concerned with how it works."
At first sight, it seems like it should be impossible to get at that distinction without the theory of evolution, which appeared almost a century after Adam Smith lived and wrote. How, then, could Smith be said to talk about ultimate and proximate causes?
Read more: Adam Smith (1723-1790) on ultimate and proximate causes in psychology
Details

Category: Nicolas' Blog
Published on Tuesday, 21 June 2011 01:00
Written by Nicolas Baumard
This post is part of a series on the 'history of social sciences'.
Monday Tuesday Wednesday Thursday Friday Saturday
Yesterday, I suggested that there was a history of social sciences to be told. A history that would talk about the problems scientists faced and about their solutions. It would use our present knowledge to better understand the knowledge of the past.
One of the reasons why it often seems impossible to write such a history is that we have the impression that the philosophers of the past, with their very different backgrounds, very different preoccupations, and very different ways of proving their points, are completely alien to contemporary science. As a response to this skepticism, I would like to take the example of the distinction between intuitive and reflective judgement, a distinction that we have often discussed here.
"Intuitive beliefs are experienced as plain knowledge of fact without attention and generally without awareness of reasons to hold them to be facts. Reflective beliefs are held for reasons that are mentally entertained. These reasons can be of two kinds: the authority of the source of the belief, or the sense that their content is such that it would be incoherent not to accept them." (more here)
At first, this distinction seems highly modern since it requires the concept of intuition and modularity to be understood. However, it is fascinating to see that it is already visible in the work of some ealier philosophers, as in Adam Smith's Theory of Moral Sentiments.
Read more: Adam Smith (1723 – 1790) on intuitive and reflective processes
Details

Category: Nicolas' Blog
Published on Monday, 20 June 2011 01:00
Written by Nicolas Baumard
I'm a big fan of books on the history of science. I like to find out about the whole story: how things got started in Ancient Greece with people disputing traditional views, how it continued during the Renaissance with scientists starting to test their theories experimentally, and on into the explosion of knowledge in the twentieth century. I also like the well-known characters and the charming (and often imaginary) vignettes about them: Galileo and the tower of Pisa, Newton and the apple, Mendel and the peas.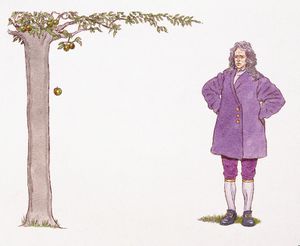 I like the settings, the Agora, the Sorbonne, the Royal Society. I like the twists and turns of the plot (Galileo forced to retract his theory or Darwin discovering that Wallace is about to publish the theory he had worked on secretly for twenty years).
Picture: The trial of Galileo by Joseph-Nicolas Robert-Fleury
I like the detours through Arabic and Chinese science (and always regret their neglected role). And of course, I like the history of science itself, how problems are discovered (why do organs seem to have a function?), hypothesis proposed along the way (the heritability of acquired characteristics for instance) and explanations found (natural selection)–what Steven Pinker calls the "blissful click, the satisfying aha!, of seeing a puzzling phenomenon explained."
I like all these things, but one thing always disappoints me. It is the absence of social sciences.
Details

Category: Ophelia's blog
Published on Monday, 06 June 2011 19:00
Written by Ophelia Deroy
Is a lemon fast or slow?
Which one is brighter: the sound of a violin or the sound of a trombone?
Got the answer?
Without any apparent reason, you believe that lemons are fast and violins sound brighter than trombones. These beliefs happen to be shared by most humans, from an early age and cross-culturally. Now, where on earth did we get them from? Most of the earlier studies conducted since Edward Sapir focused on "sound symbolism", i.e. the associations between sounds and meanings, but not directly on the associations between sensory dimensions – like brightness, pitch, size, etc. Even if you don't know anything about french names for birds, I could ask you whether you think that a pipit is a small or a big bird – and you would, without any apparent reason, judge that it must be a small one. It's certainly because, as a large majority of humans across cultures and linguistic groups, you think that the sound /i/ is smaller and brighter than the sound /a/, diminutive words, or names of small birds and fishes are much more likely to contain /i/ than /a/.
Rules have exceptions: Which is faster — a mallard or a kiwi?
Believing in things that don't really make sense and without any apparent reason seems, in that respect, not specific to the religious and spiritual domain. But are beliefs in the fastness of lemons, and in bright violins, of the same kind as beliefs in the Holy Trinity or in the spirits of the trees?
Details

Category: Decision-making for a social world
Published on Monday, 06 June 2011 11:19
Written by Hugo Mercier
Judgments and decisions based on attempts to disambiguate the given information: Effects of decision frames, non-diagnostic information, and information order (you can find the paper here)
The author presents evidence for the impact of conversational rules (Grice, 1975) on judgment and decision making. In accordance with social cognitive approaches that examine how conversational rules affect information processing (e.g., Higgins, 1981; Schwarz, 1994, 1996), it is argued that these inherently social rules guide important meta-cognitive inference on whether and how information should be used in forming judgments and making decisions. The author reviews the influence of conversational rules on framing effects, the dilution effect, and order effects in decision making and persuasion. Implications for cognitive 'biases' in and outside of the lab are discussed.
Details

Category: ICCI blog
Published on Friday, 03 June 2011 12:50
Written by ICCI Team
Satoshi Kanazawa has caused a scandal by publishing a blog post (later withdrawn) claiming, with specious evidence, that black women were less attractive than others (and black men were more attractive). His Psychology Today blog has just been closed down. Readers of the hell-raising post will realize that this does not look like the work of a scientist willing to challenge political prejudice in the name of truth. The author obviously relishes provocation, and he was willing to relax the standards of scientific proof to create a stir. Which he did.
As a result, evolutionary psychology as a whole is once more under attack in the media and at the LSE (where Kanazawa is a reader in the management department).
Read more: Offensive inanity in the name of evolutionary psychology